Premium Facial Treatments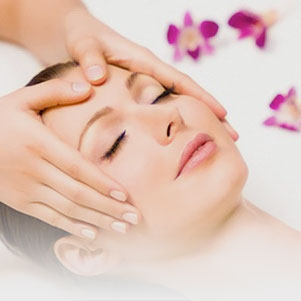 Laguna Laser is proud to use only Rhonda Allison & Babor Skin Products for all of our premium skin care services. These products allow our clients to enjoy clinical end results while receiving instant gratification and relaxation with the best products derived from nature.
Babor is a luxury skin care product sourced from nature that meets the highest standard in terms of effectiveness and compatibility. Developed in 1955 by Dr. Babor, these products have been in the forefront of skincare by combining the best that science and nature have to offer.
All treatments are performed by a Certified Medical Laser Technician, Aesthetician, and overseen by our medical director, Dr. Elisa Mashal.

Facial of the Month – $50
Treat yourself or a loved one to one of our delicious featured facials. Sometimes we will bring you back to the beach with a pina colada facial or get warm and cozy during the holidays with a caramel apple facial. This is a fun affordable way to be pampered! Check our specials section of our web page to find out which facial is being featured.
Men's Facial – $65
Come De-stress with a product line specifically designed for men, "Couture for men by Babor."
Sensitive Touch Facial – $65
Babor is a product line that is derived by nature and has a line formulated for even the most sensitive skin. So you can relax and give your skin the gentle pampering you deserve.
Clear-Up your confidence Facial – $65
If acne is causing you to be less than confidant; let one of our Aestheticians pamper you with products that really work. Our product line is pharmaceutical grade, and pH balanced so Babor will address the acne without stripping your skin .
Purifying Anti-Blemish Facial – $65
Mature skin with hormone induced blemishes will benefit from this facial. Babor is a unique product line that has formulated a product that addresses hormonal induced, mid-life ,blemishes ; while also smoothing the signs of aging.
Oxygen Rejuvenating Facial – $70
This facial is an excellent way to revive tired, dull, or environmentally stressed skin. Come relax and breath easy with this oxygen facial.
Skin Refining Facial – $80
This facial is amazing for mature skin that needs a little refining and preventative anti-aging; for skin that is just starting to show the signs of aging. Our product line is one of the best luxury product lines on the market and we are confident that you will notice improvement in your skin's appearance!
Back Facial – $90
We often don't see our backs but others do, so our Aestheticians have got your back on this one. Come enjoy a pampering back massage as we apply a luxury product line ; Babor. This line has product especially for body acne , polishing dull skin so that fresh radiant skin can replace it, or improve sun damage with our white effect product line.
Customized Facial with Chemical Peel – $95
Our licensed and trained Aestheticians will customize the facial and chemical peel to each person's unique skin care needs.
Microdermabrasion with Customized Facial – $100
Microdermabrasion is an excellent way to resurface skin with little to no down time. Laguna Laser only offers Microdermabrasion with a customized facial so your skin may heal properly and obtain maximum results for your unique skincare needs. All of our customized facials use only the best product s from Babor to reach your desired outcome. Our Aestheticians love to pamper but not without results.
Back Microdermabrasion with Back Facial – $150
Our backs are one of the most neglected large areas of skin on our bodies. Microdermabrasion paired with high quality product is great way to clear up back acne, mild scarring from previous acne, sun damage or just to maintain the look of fresh radiant skin.
Skin Tightening Tummy – $150
This treatment is amazing for tightening mild to moderate loose skin resulting from pregnancy or perhaps weight loss. This treatment often fades stretch marks a bit also, as an added bonus! Post treatment our Aestheticians will apply collagen boosting products and skin firming creams as well.
Microdermabrasion with Chemical Peel and Customized Facial – $150
Combining Microdermabrasion with a chemical peel provides a very intense exfoliation and is the most effective way to treat blemished skin, dull skin, or mild sun damage.
Skin Tightening with Anti-Aging Customized Facial – $200
Skin tightening creates a non visible wound in the dermal layer causing your skin to create collagen. This process can take several months so we combine all our treatments with a customized facial with only the best collagen stimulating and lifting ingredients to give the immediate gratification that our clients crave.
Skin Tightening with Microdermabrasion & Anti-Aging Facial – $250.00
This treatment gives you the very most for your money and the most dramatic end results as well. This is an excellent way to refine mature skin, minimize loose skin, age spots, prevent further aging, replace dull skin with new radiant skin, and get the relaxation your body needs.
Contact us for more information!